Shipping
We can ship any of our products to virtually any address in Australia.
Smaller items (such as accessories) will be shipped by Australia Post or by courier.
Our default setting is that goods will be marked 'authorised to leave' and the courier will leave the item in a safe place if possible. If you do not wish to have your purchase left in a safe place you need to notify us at the time the order is placed.
If you can purchase an item on our website, then to the best of our knowledge we have it in stock and ready to ship. We aim to ship within one business day, if there will be a delay beyond this we'll contact you.
As our e-bikes utilise relatively large lithium-ion battery packs these can only be shipped by road transport and unfortunately this may take up to 10 days to arrive from the date of order.
The cost of delivery for most small items is either at no charge or a small amount depending on the weight or size of the item. An electric bike or other large item like a carrier for your car is a flat $99 per item to major and capital cities in Australia. The exception would be to some remote rural locations such as Western Australia, FNQ or the NT. If you are in a remote location, call or email first and we can advise an exact shipping cost.
We can ship to some international destinations, however it is generally pretty expensive to do so. Around $40+ Australian dollars for a small items, if this cost is ok for you get in touch and we can give you a firm quote to ship the item you are interested in.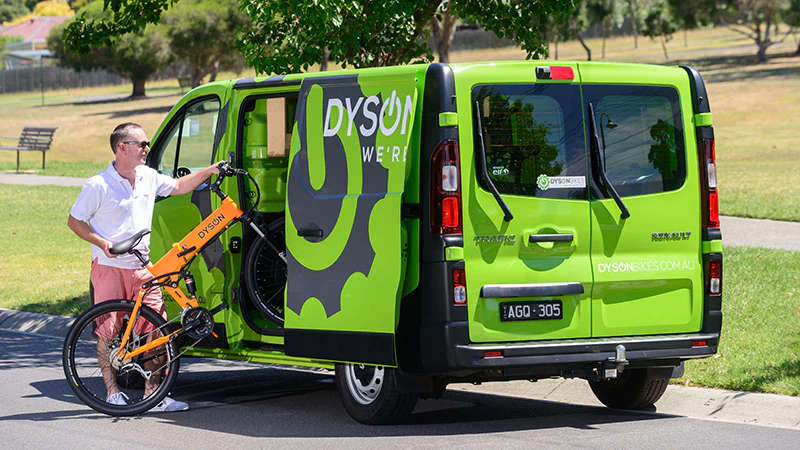 Returns
Something not right? Please pick up the phone and give us a call we can be reached during business hours on 03 9532 3132.
Our foremost consideration is your satisfaction. If we have made a mistake, your item is faulty upon receipt or is not as described, we will gladly exchange the item or offer a refund.
You must notify us of the issues within 7 days of purchase or within 3 days of delivery, whichever comes first. Items must be returned with their original packaging and, unless they were damaged prior to you receiving them, must still be in an undamaged, unused and saleable condition.
We compily with the conditions set our by the ACCC which can be found here.
If we have supplied the correct product and it is in good condition we will not automatically accept the return.
Please make sure the product is what you're looking for as we will not provide refunds for 'change of mind' purchases or were you have ordered the wrong size or colour item. For example we sell suspension seat posts in 3 common sizes - 27.2mm, 30.9mm and 31.6mm. In the case you have ordered a 30.9mm post and we supply a 30.9mm post, but when the post arrives you discover your bike actually requires a 30.4mm post - this is classed as 'change of mind'.
When purchasing a part for a bicycle or to fit to your vehicle we try and provide us much relevant infromation to assist with making the best choice possible, however with thousands of different possible bicycles out there we can not account for all situations. By making a purchase you agree that you have considered how you will use the item and have made an informed choice about the item you have choosen to purchase. If you are unsure of the suitablity of the item you are considering, please contact us we are happy to take your call and answer your questions : ).
If you find you have made the wrong choice or do not like the product you have choosen to purchase we will consider requests for a refund/exchange on a case by case basis, but please note that we can not cover the actual shipping costs or transaction fees associated with sending you the item or you returning it to us as this cost can not be recovered.
For example on an item which you paid a flat $9.90 shipping the true cost may have been $20 for example, as we can not recover this cost the refund will be less this amount if we choose to offer a refund.
On purchases made by VISA, Mastercard, Afterpay and Zip Money these companies charge a 'merchant fee' to process the transaction, if a refund is processed they do not refund us the 'merchant fee', therefore we will deduct this cost from the refunded amount.
For example if a car carrier was purchased for $1,000 and paid for by VISA, the credit card processing company will charge a merchant processing fee of 1.75% ($17.5), if we agreed to refund the purchase we would refund $982.50, being the purchase price less the $17.50 merchant fee. With Afterpay or Zip Money transactions this may be as high as 6% plus a transaction fee and GST or $66.33 in this example, making the refunded amount $933.67.
As a small Australian owned, family business we will always strive to provide great service, but we ask that you understand we can not absorb costs when we are not at fault.
To organise a return, repair or replacement, please call us on 03 9532 3132 or email [email protected].
If you have any concerns or questions regarding your new e-bike or accessory we encourage you to call us and we will do our best to help out.