Are Dyson E-bikes any good?
Since 2013 Dyson Bikes have earned an enviable reputation for supplying the very best value for money Electric Bikes in Australia. Our own designs and specifications are under constant development and what we have learned about E-Bikes is second to none.

Our bikes are well thought out, reliable, functional and downright fun to ride. Our range covers folding E-Bikes, step-through frame Electric Bikes and various Electric Mountain Bikes. Ease of use and safety are always our highest priorities and as such we now use disc brakes across all our models.

Of course we don't expect you to simply take our word for it, so here is just a small selection of verified online reviews from a handful of our thousands of customers - and as always, if you have any questions about getting a Dyson Bikes Electric Bike, please be sure to get in touch.
You can find more on our Google Reviews Page or Trust Pilot page
If you are a happy customer, we'd really appreciate if you could leave us a Google review here or by following the link to Trust Pilot below.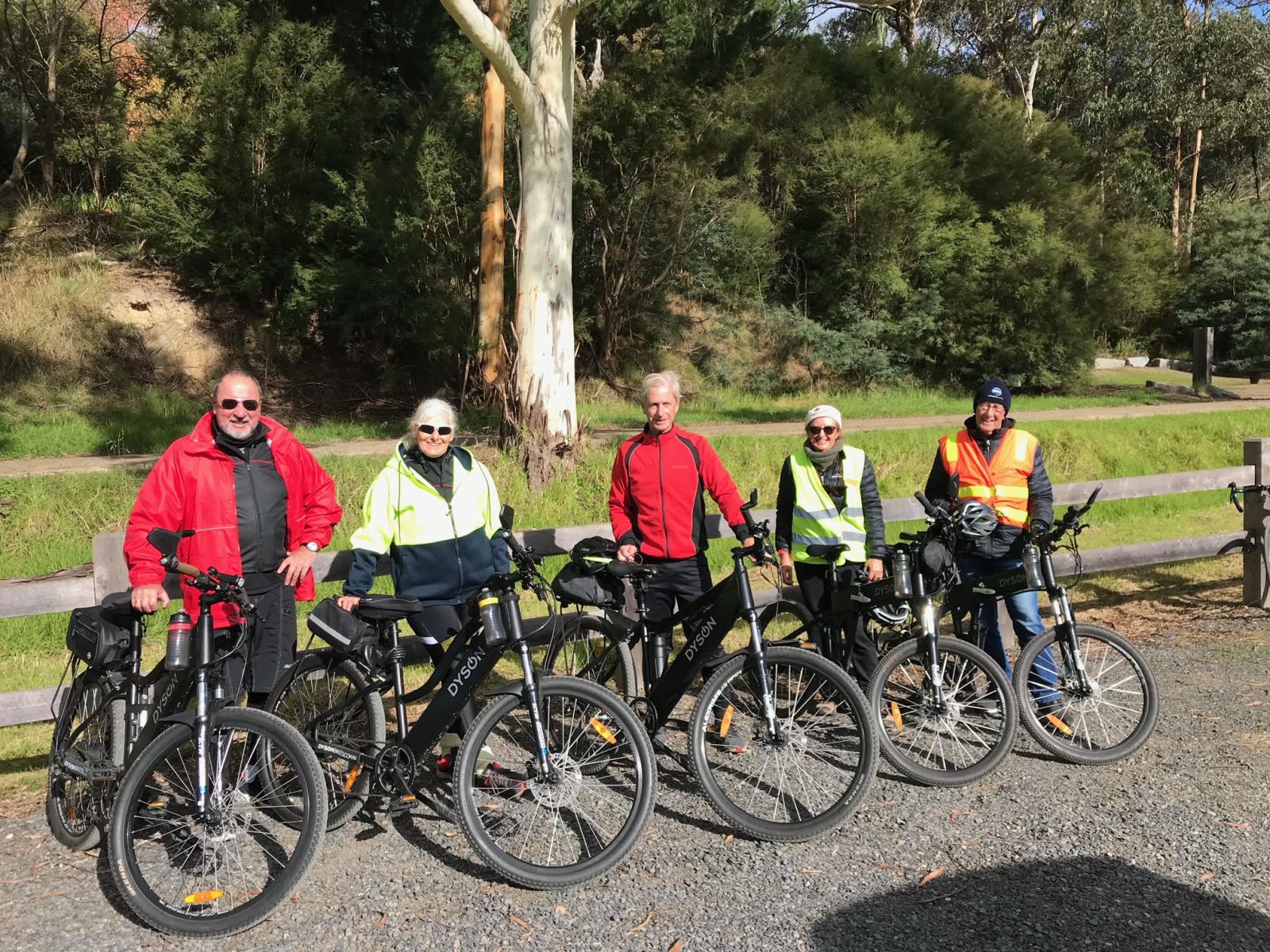 "This is the second Dyson bike that I have bought. It is a completely different design from my bike. I bought the new one for my wife. She loves it. I have done close to 4500klms on mine and it has never skipped a beat, getting at least 80+ ks from each battery charge. A reliable piece of machinery that I ride in all weather conditions. Part of the reason that I returned to Dyson is the fact that David is super good at helping out and has customised my bike to my own requests. Never an issue with anything and always happy to accommodate. Thanks Dave." Christian
"The shipping timing was faster than anticipated, and the bikes were completely constructed. Im really pleased with the Adventure Folding Ebike. Im quite satisfied with the product, and my first trip made me very delighted. The pricing was reasonable, and the delivery was prompt. Everything was exactly how one would wish." Concetta H.
"I've owned a Dyson Hard Tail Evo for several years now, best investment I've made. Excellent service and have ordered and had deliveries up to Qld and have always received products fast and in excellent condition. Service and follow up contact has been prompt and helpful. Can't recommend an electric bike or business more highly. Thanks guys." Clay B.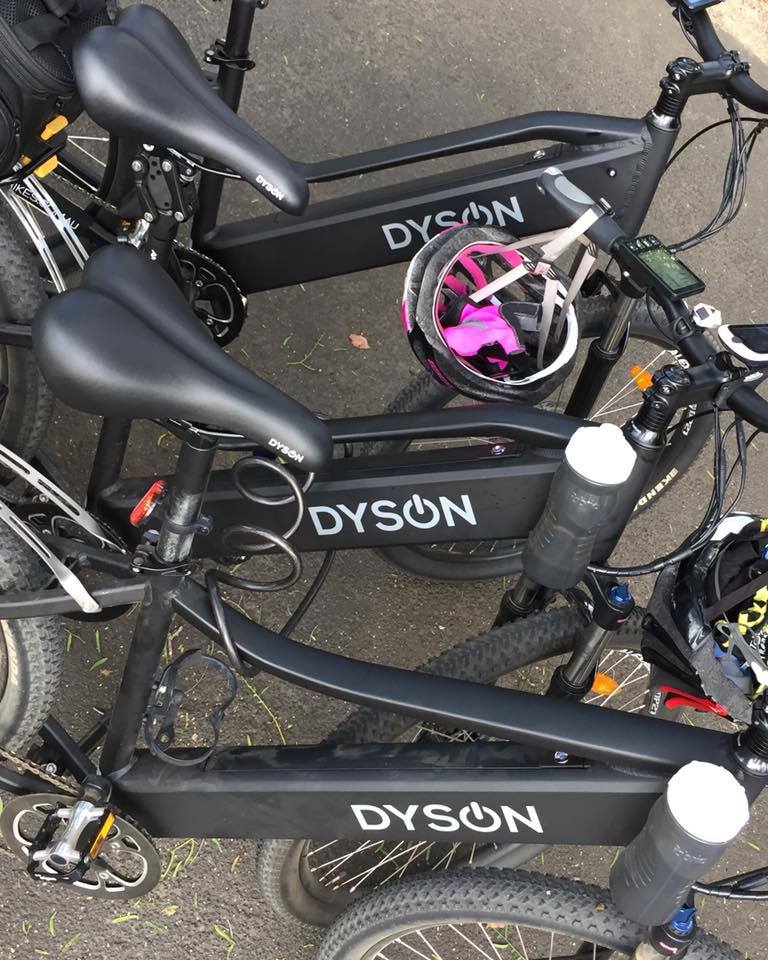 "I purchased an Dyson e-bike adventure 26 inch. I took it for a test ride and loved the ease , comfort and manoeuvrability. The bike was easy to ride even without the pedal assist. After riding for several kilometres, I used the pedal assist on level 2 and 3 and found the riding experience even better. The battery holds charge extremely well and is always ready to go. Most people would prefer a more sedate bicycle to use around town . I am a senior citizen and find this bike can go anywhere, take hard bumps and rugged terrain. I love it and recommend this to anyone that's enjoys riding rail trails around towns and even cross country trails." Gloria H
"Bought a folding bike recently and so far, I'm very happy. It is a sturdy little unit with great power. It took me a little while to feel totally at home on it with the smaller wheels and fold up dimensions but now I'm comfortable, it is great. The smaller size is a real advantage compared to my previous e-bike which was huge. Have also been out when the battery ran down (my fault) and was still able to ride up hills without the power - so works well with or without the battery support. This is an extremely good value for money e-bike." Jo
"I bought a Dyson electric bike (hard tail evo) in 2017, 4 years later it has done over 11,000 kms and still going strong. Every time I have had a question or needed to replace a part I have recieved the best service from an online retailer I have ever experienced. I Live in Alice Springs and there is no local dealer, but I have always had any small questions answered and been given detailed instructions on how to fix or replace parts. The bike itself is very rugged and all of the fixes that it has needed are due to mistreatment or wearing out the tyres and tubes. It got to the stage where my wife was using the bike as much as I was and we had to do a roster to see who got to use it. So recently I got a Tilba for her and now we are both riding strong. I also use the bike to tow my son on a ride-a-long and the extra weight is easy to deal with with the electric assist. Couldn't be happier I choose Dyson for my electric bike(s)." Col S.
"Very happy with our purchase of 2 ADVENTURE 20-INCH FOLDING EBIKES. Communication was excellent with all questions answered. The delivery time was better than expected and bikes were fully assembled except for the front wheel, which took me about 5 min per bike. Very happy with the quality and our first ride put a big smile on our faces." John S.
"Bought a Dyson Hard Tail Evo (from Bicycle Superstore, Carnegie) a few days ago and am extremely impressed so far. Excellent value for money!" Steve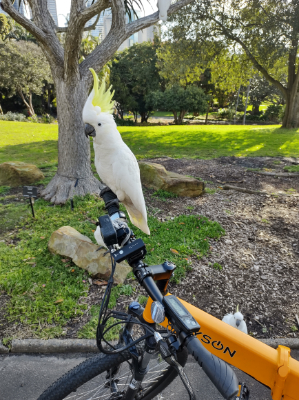 "Thought you might like this ! Sydney Royal Botanical Gardens... Glenn - another happy owner" Glenn L.
Super Fast delivery and awesome service ...6 starts out of five :) Darren
"Great, comfortable ebike for me at a great price and will be suitable for all the types of riding I will be doing. Battery life is good for me and the 6 assist levels are easily changed whilst riding to maximise battery use." Terry B.
"It's very rare these days to receive the level of service I experienced at Dyson Bikes. I am new to electric bikes, and there are many variables to consider. The owner, David, was very helpful and answered all my pedantic questions before my purchase. My 26" folding electric bike was delivered promptly and then follow up advice was offered by David. It's very comforting to deal with someone who is local. The communication before and after the sale has been brilliant. It is a great product, very well priced and the build quality is excellent. You will not find better customer service. Well done Dyson Bikes." Paul L.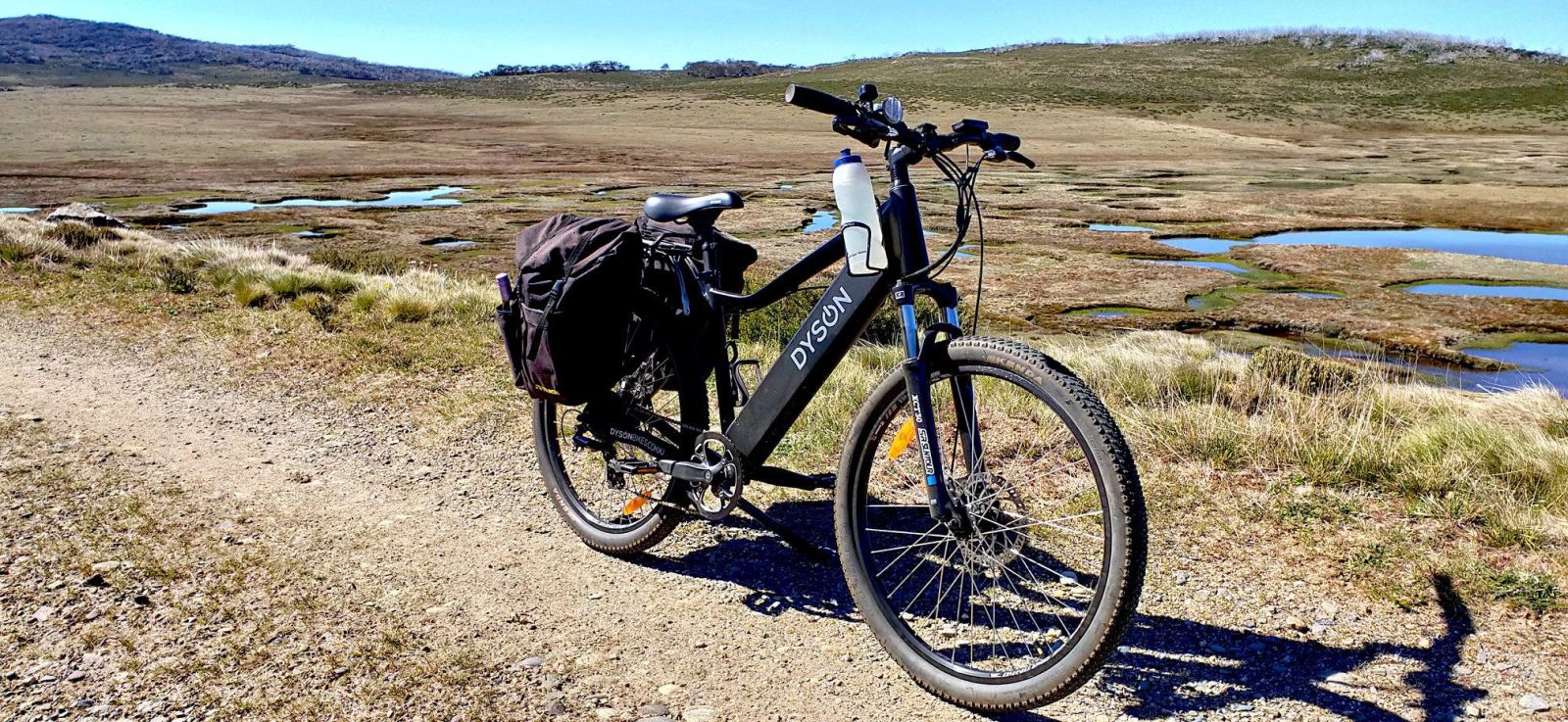 "Had my Dyson for 4 Months Rode the Aqueducts at Falls Creek today great bike love it" Ron H.
"Hi, for years the majority of my purchases have been online, and I don't leave reviews. I don't care for that stuff!
But, this online purchase with Dyson Bikes - We're Electric was so informative and hassle free I actually feel inclined to. A pleasure from start to finish!" Gerd S.
"Took the plunge and got one of these. Awesome bike and can't believe how easier they are to ride." Morgan S.
"Judy and I bought a pair of Dyson 26" folding mountain bikes a couple of weeks back and we're loving them.
We made a good choice by buying them at the Bike Fitting Shop in Korumburra, where John adjusted the bike to fit me and swapped parts in and out of Judy's bike to set it up perfectly for her.
Because they fold so easily, we've found we can put one in the boot and one in the back seat of our Verada and take them anywhere. Now we're looking at a carrier and panniers as we're contemplating going much further afield." Rob and Judy S.
"Great bikes and accessories, get 40km easy out of my hard tail evo 14amph on higher assistance levels 4-6. Absolute game changer" Kyle G.
"I bought a Dyson Evo Hard Tail in March from the Bicycle Superstore and it has proven excellent and is great fun to ride. It's a good looking and very well priced eBike. We are now planning to buy a second one with a smaller frame for my wife. Highly Recommended." Mark
"For a first time user of ebikes like myself, I didn't really know what to expect with the new Dyson hard tail RTC. I am pleased to say my wife and I love it! To have the confidence to be able to ride up a big hill or into a roaring wind and know you will make it home without stress is a new experience. Dyson bikes really fit our outback climate with slime (puncture resistant). Well done Dyson!" Craig S.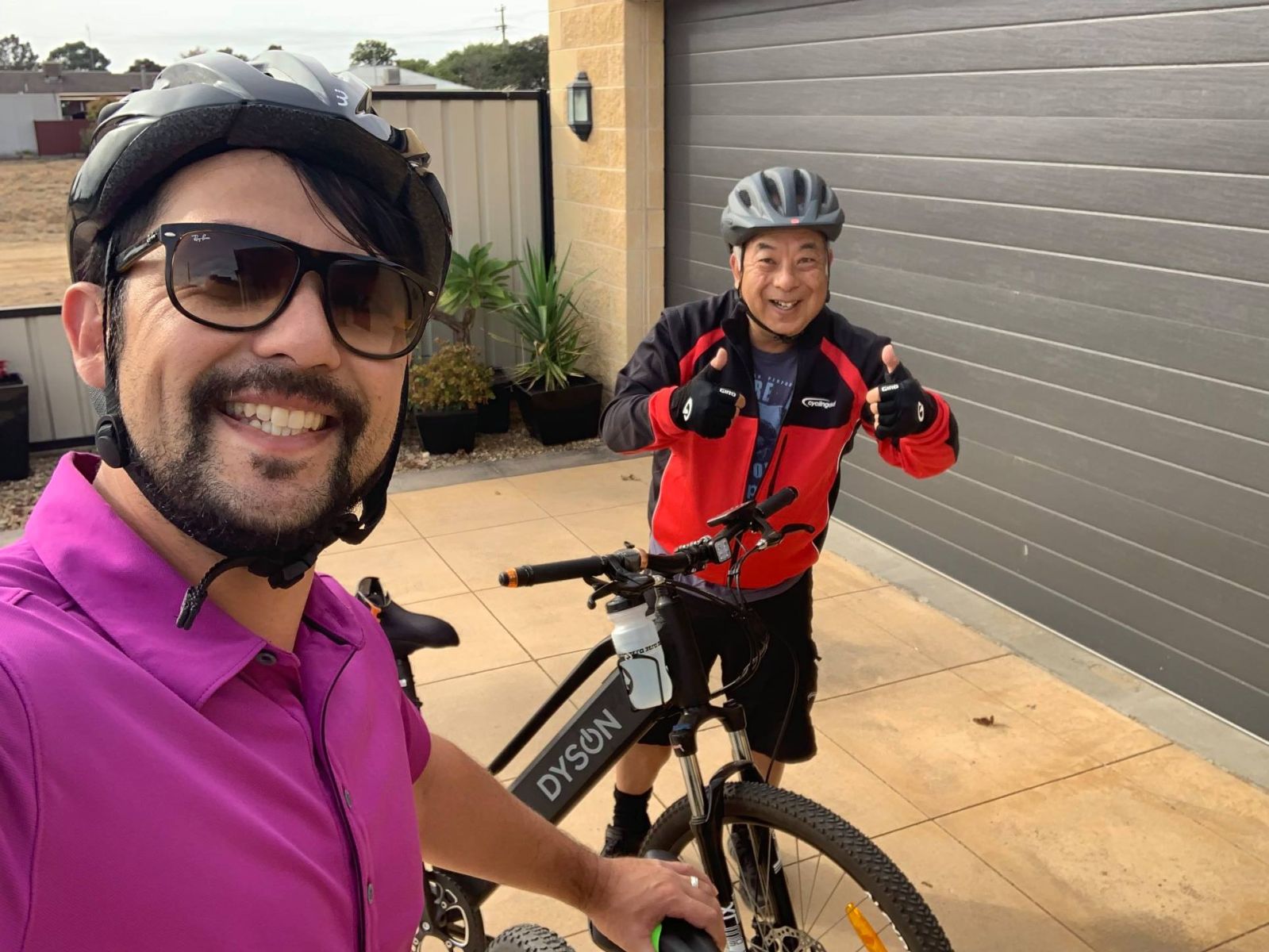 "Had a good ride yesterday with my son in Kerang - 17.1kms/44 mins, myself on my Dyson Mixte, he on his new Giant. Mixte allowed me to handle strong southerly wind better than his Giant! I know he can ride rings around me but at my age, I will take any advantage that Dyson P/A will give!" Greg G.
"Excellent service and products are of top quality! I will defiantly refer Dyson to my family & friends" Kerry T.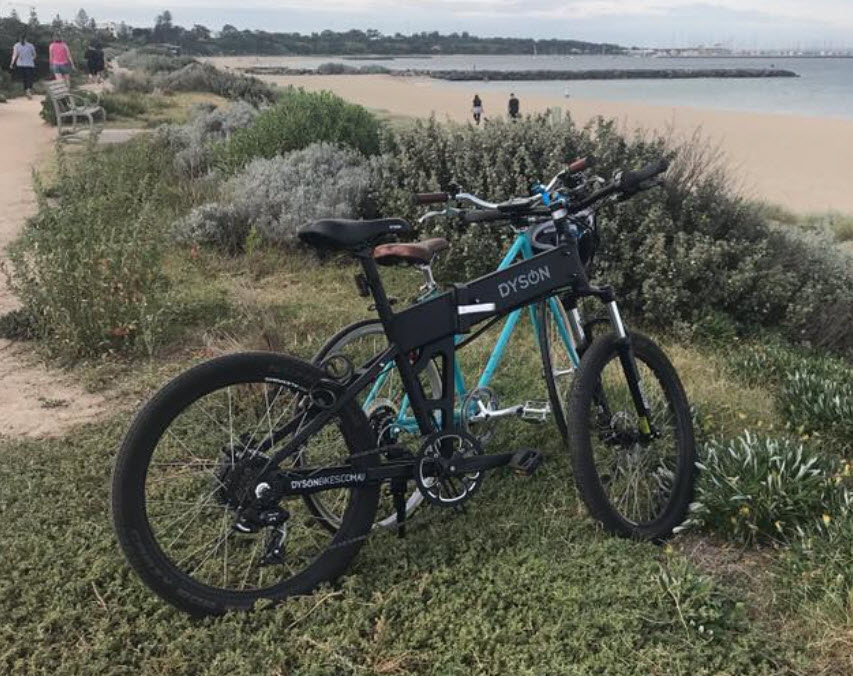 "I love my Tokyobike but this Dyson is the best thing EVER ! Can't stop riding it. Shout out to David from Dyson. Great product and even better backup service." Christian M.
"I was very impressed with Bondi Step Through e-bike I bought. The service after the sale was first class. I travel from Docklands to Hughesdale every evening and this bike has cut my travel times almost in half (without commuting on the crowded train). I never passed anyone with my old bike but with the Dyson e-bike, it feels so good when I overtake someone. Highly recommend this product to everyone. I am now saving enough money to purchase another e-bike for my sister." "I've been very happy with my purchase of a Dyson evo electric bike, etook folding lock and heavy duty rear bike rack. The accessories work exactly as described and arrived with fast delivery. The bike is such a joy to ride." Prue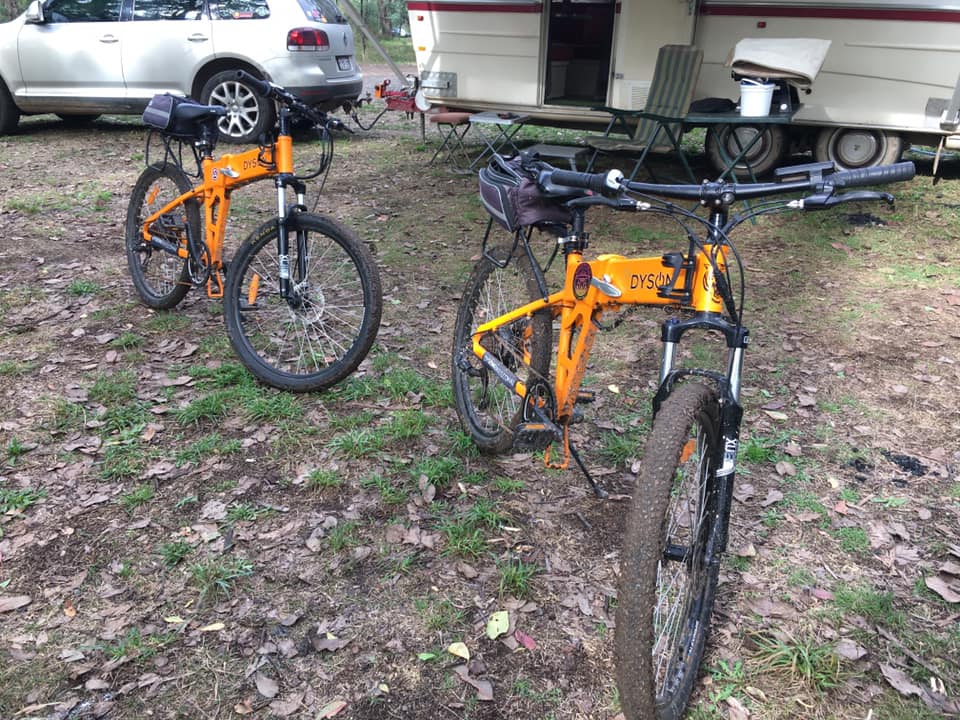 "Muddy play in the Australian Alps near Mt Buffalo! Sideways a few times but I didn't fall off" Chris McB.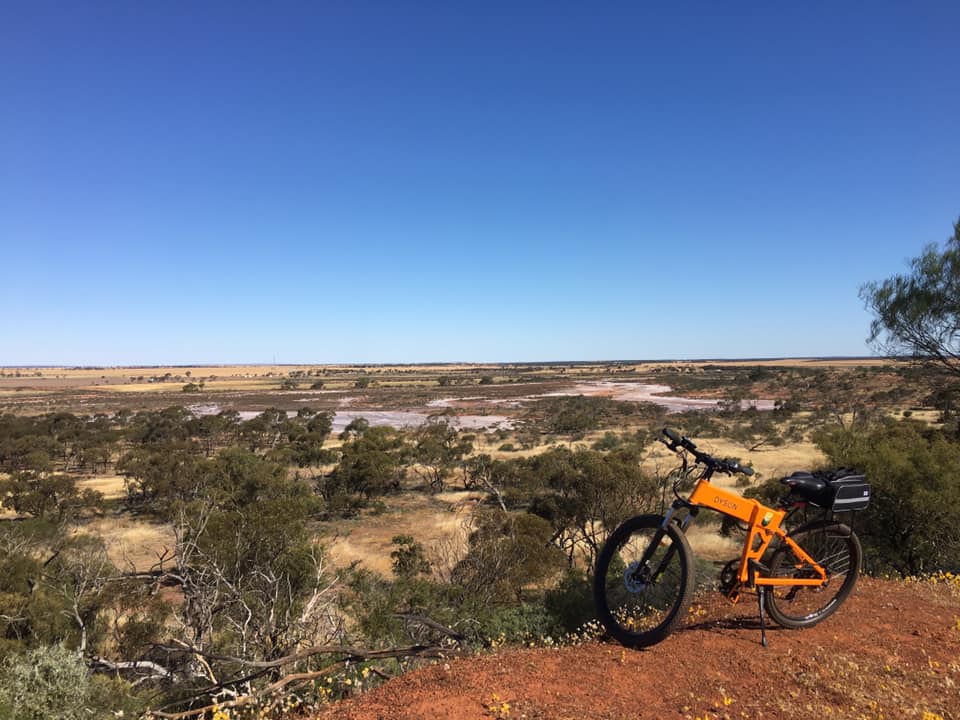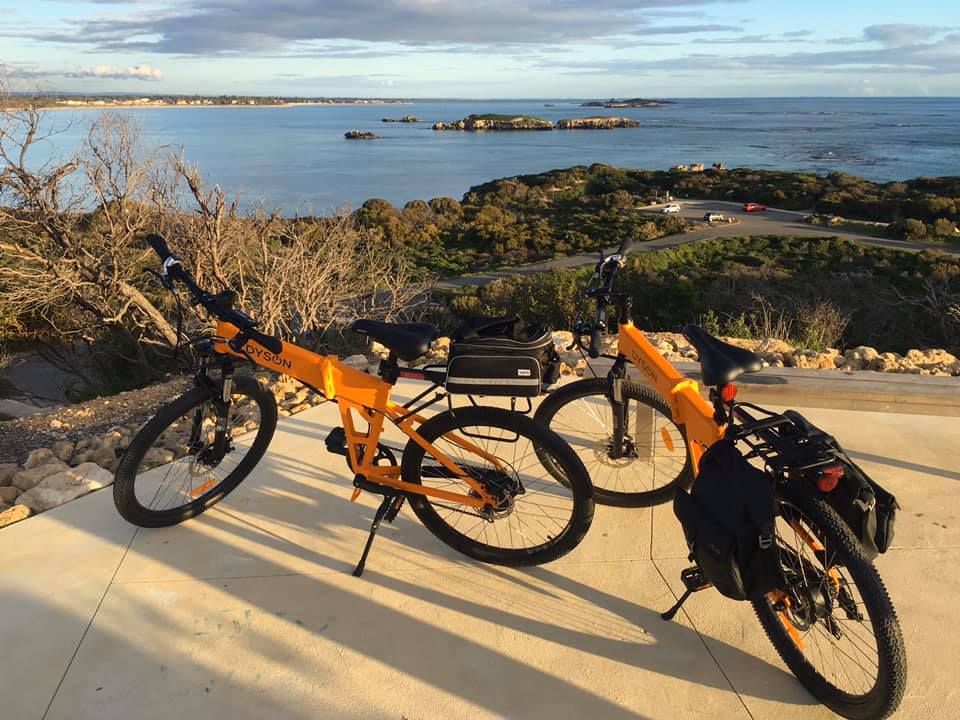 "11/10 Performing better than I'd hoped. Soft sandy WA coastal track ... not a problem, in fact a happy challenge. Chuck it in pas 6, plant some weight over the back wheel and pedal along. Even uphill through the sand ... WTF? Joyous!" Peter S.